NEUROLOGY, SEMARANG – Advances in medical technology have driven many innovations that all started from basic medical science research. The development of increasingly advanced medical science is the result of the application of translational medicine with the principle of bench to bedside. "A clinician who works in a center for research and development of medical science has a responsibility to bridge clinical medicine with basic medical science so that research downstream can be achieved and can be applied in clinical practice and the benefits are felt by the general public." said Prof. dr. Muhamad Thohar Arifin, Ph.D., PA., Sp.BS (K)., in his inaugural speech as Professor in Neuroanatomy at the Faculty of Medicine (FK) Diponegoro University (UNDIP), Wednesday (15/06).
In his speech entitled "Development of Clinical Neuroanatomy-Based Functional Neurosurgery for Patient Safety and Quality of Life", he explained that clinical neuroanatomy is a basic science that can be used to unravel some of the problems encountered in daily practice in the field of neurosurgery. Some of the difficulties encountered in surgical removal of brain tumors at the location of the eloquent cortex, encourage the use of intraoperative imaging modalities such as ultrasound to MRI which can provide accurate and real-time information.
Understanding of brain areas with major/important functions/eloquent cortex, encourages the urgency of intracerebral lesion demarcation to prevent postoperative neurologic deficits. Neurosurgeons' knowledge of the brain structures responsible for the generation of seizure waves led to the development of more complex surgical techniques for epilepsy surgery. "The application of the above principles requires high resources and technology which is still rare in Indonesia, especially in the functional neurosurgery division; which is a surgical approach by prioritizing the integrity of the anatomical structure and function and minimizing the risk of disability and death." explained the lecturer at the Neurosurgery Study Program, FK UNDIP.
According to him, understanding neuroanatomy is the key to determine the location of a lesion in the brain based on the functional impairment that is the patient's complaint. For example, an injury to the pyramidal tract on one side will result in paralysis on the opposite side of the body. Locating a lesion is like finding the address of a building or house on a map. An injury to the central nervous system will provide a specific location description based on motor, sensory and sublime function symptoms. So that the symptoms of a specific part of the nervous system can be the basis for determining the exact location of the injured organ. "Damage or injury to the deep structures in the central and peripheral nerve compartments gives different symptoms and signs, so that a doctor who is well versed in neuroanatomy can locate the lesion through a series of systematic and comprehensive clinical examinations." he said.
Neuroanatomical diagnosis remains an important basis, when the development of neurophysiology, neuroimaging, and molecular biology is so advanced, given the importance of using the anatomical diagnosis of a lesion. A good understanding of clinical neuroanatomy will prevent fraudulent practices in the use of supporting modalities such as the "gunshot approach" in neuroimaging. The gunshot approach is the use of randomized investigations without regard to clinical aspects, resulting in wastage and side effects of inappropriate and unnecessary investigations.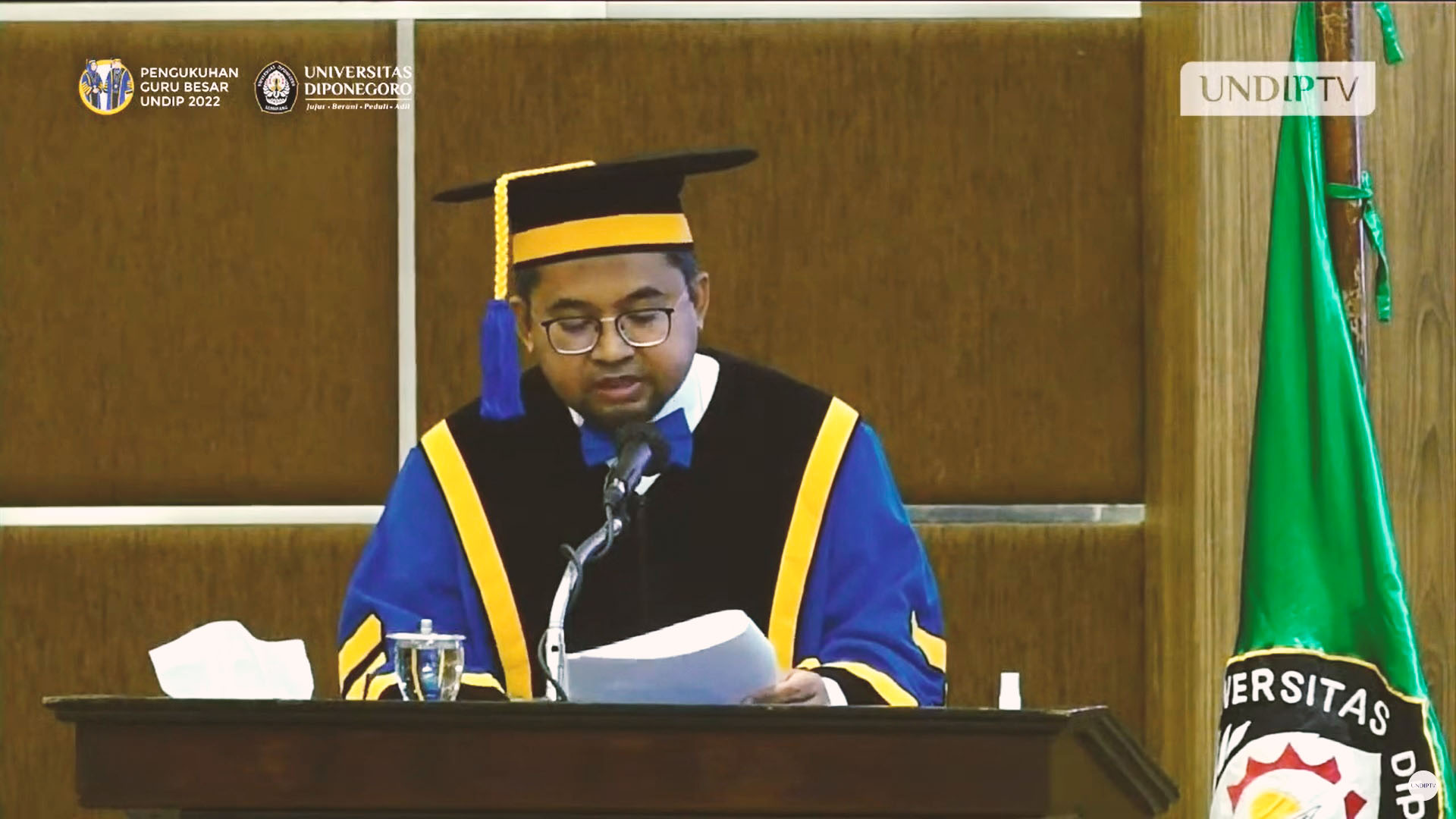 Photo: Prof. dr. Muhamad Thohar Arifin, Ph.D., PA., Sp.BS (K).
A good understanding of clinical neuroanatomy will prevent a neurosurgeon from performing operations that are not in accordance with the clinical and supporting examination results on the patient. "Patient management is not only about treating radiological abnormalities, but must be based on consideration of the suitability of the anatomy-clinico-radiologico-correlation. As a neurosurgeon, an in-depth and thorough understanding of the anatomy of the nervous system is an inexorable necessity to achieve an excellent neurosurgeon." said the man who was born in Kulon Progo on April 14, 1974.
Supported by anesthetic techniques that allow brain surgery to be performed while the patient is awake or called awake surgery has increased the success rate and decreased the risk of complications due to damage to the eloquent cortex. Complications from surgery for brain tumors located adjacent to the eloquent cortex are often a scourge for neurosurgeons. Awake surgery is indicated in cases of high-risk brain tumors that are located adjacent to or in areas that have important functions such as limb movement, sensibility, speech function, comprehension function and vocabulary comprehension.
Surgery in a conscious state is needed to assess the limits of tissue that can be taken by a surgeon as widely as possible without leaving permanent disability for the patient (safe maximal resection). This technology has not been widely adopted in Indonesia due to limited tools and human resources, but has been carried out at Dr. RSUP. Kariadi in certain cases with fairly good results.
Another implementation of Clinical Neuroanatomy can be seen in the handling of epilepsy cases in Indonesia. As a form of neurosurgery that is still relatively new in Indonesia, the development of epilepsy surgery in Semarang was carried out with the full cooperation and support of Hiroshima University School of Medicine, Kagoshima University School of Medicine and Shizuoka National Epilepsy Center. "At least until December 2020, researchers have performed surgery on 799 people with epilepsy and the discussion about the results of epilepsy surgery in Semarang has been partially published." said Prof. thohar.
More Prof. Thohar explained that as an excellent service, epilepsy surgery is a multidisciplinary collaboration of neurosurgeons, neurosurgeons, pediatric neurologists, mental health doctors, anesthesiologists, anatomical pathologists, radiology doctors, and psychologists. "Since 2005, with the limited availability of facilities and infrastructure, researchers have begun to carry out surgical management of complicated cases. Surgery in cases of epilepsy whose focus is outside the temporal lobe requires extramonitoring or intraoperatively with electrocorticography (ECog)/cortical mapping methods to increase the scope of resection without causing permanent disability and nerve tissue injury." he added.
In addition, more complicated and complex operations such as: selective amygdalohippocampectomy with the aim of preserving cognitive function and memory, corpus callosotomy in cases of drop attack epilepsy, and hemispherotomy for cases of hemiplegic epilepsy have also been performed at Dr. Kariadi. In this second phase, some patients with temporal lobe epilepsy also have relatively normal imaging results (MRI-negative epilepsy) which poses a challenge in deciding the surgical site.
The strategy to determine the location of the epileptic focus is carried out by implementing an understanding of clinical neuroanatomy, neurophysiology and the results of supporting examinations that become standard in more complicated procedures. "Our observations prove that the operation provides a satisfactory seizure-free rate and is comparable to the outcomes reported by several epilepsy surgery centers in other countries, this is something to be proud of considering the development of epilepsy surgery in Indonesia is faced with limited resources and facilities." said Prof. thohar.
The development of epilepsy surgery is a common goal related to the core strategies that have been set by the Brain and Spine Study Group, FK UNDIP / Dr Kariadi Hospital. This core strategy includes the regeneration of neurologists and neurosurgeons who specialize in epilepsy and epilepsy surgery, recruitment of experts to perform brain wave recording (EEG technologist), the use of high-tech diagnostic modalities such as video-EEG, MRI, to PET-scans for planning surgery, selecting surgical candidates strictly, and types of surgery based on available clinical data, as well as close collaboration with related departments.
"In addition, we are developing collaborations with overseas epilepsy surgery institutions, especially in the early stages of developing epilepsy surgery as a means of transferring knowledge and sharing difficult cases that we find in Indonesia." he concluded.
Prof. dr. Muhamad Thohar Arifin, Ph.D., PA., Sp.BS (K)., became the 11th Professor at the Faculty of Medicine UNDIP. Until now, Diponegoro University has 161 active professors. (Public Relations of UNDIP)